November 20, 2017
Excellence Never Stops
Erika Berry
Research shows that participation in high-quality out-of-school time increases student engagement, relationships with adults and peers, and improves work-study habits and academic outcomes. When RePublic Schools promise families that their scholars will be able to choose the college or career of their choice, we know that they must be prepared through a rigorous academic program complemented with opportunities to excel outside the classroom. Every minute counts to ensure our scholars are college- and career-ready, which is why RePublic Schools invests in a robust and comprehensive after-school program, led by the Director of Community Life (DCL) at each school. Thanks to the hard work of our DCL's, scholars across our five middle schools stay after school to participate in activities like choir, music, football, basketball, debate, and various leadership clubs. Access to these opportunities, especially for middle school students, are already being held sacred by the scholars who have chosen to participate. Hear from several scholars who are excited to share their experiences with after-school programming.
Meet Taylor, a founding scholar at Reimagine Prep and President of the Beta Club. "Taylor has grown tremendously since last year: academically, emotionally, and behaviorally," says Ms. Riggs, the DCL at Reimagine Prep and advisor of the Beta Club. "The Beta Club is a nationally-recognized scholarship club that has really allowed some unexpected leaders to emerge throughout our school. In other words, Taylor is a great fit to lead Reimagine's first chapter of the Beta Club."
Taylor now believes that the word "lead" actually means to "serve." She signed up for Beta Club because she has always felt a calling to serve others through leadership. Of course, Taylor knows that from her participation in Beta Club she is receiving even more than she is giving.
"I used to be shy when I was speaking to a whole group. Beta Club has helped me face my fears of speaking in public and making eye contact. One day, I want to be a doctor and I need to have a great education. By learning to be a leader now, in the future, I will be able to achieve that dream. It takes someone who is hard-working and who shows integrity all the time to lead others. That is what I am learning to be."
While Ms. Riggs and her colleagues at Reimagine have witnessed Taylor improve academically, the truly important change is that Taylor has become more reflective as a leader in the classroom. Taylor recognizes her growth: "I have noticed that I am not talking as much in class when I am not supposed to, but also that my attitude has improved when I get in trouble for talking. When I earn a demerit, I now let it go, because I know my teachers are preparing me to be a better person."
Another Reimagine Prep founding scholar and after-school leader is Edward, who is passionate about his involvement in the Conflict and Compromise after-school program: "I love history, which is why I wanted to participate in Conflict and Compromise. We find a conflict and compromise in historical context and compete in a debate, but it's not about winning or losing. The real reward is that scholars who participate in the National History Day Competition (NHD) learn standards of college-level debate. We are required to present evidence such as essays, documentaries, and performances to make our point."
Edward's confidence in himself is overshadowed by his confidence in learning and where education is going to take him in life. "My personal ambition is to become a District Attorney. After that, I hope to run for various political offices such as mayor and governor, then president of the United States of America! Conflict and Compromise is preparing me to become the president because it will help me get into Harvard, graduate from Harvard Law School, and provide me with the experience and historical knowledge to help our country not repeat our mistakes of the past."
Of course, after-school programming at RePublic is not limited to leadership clubs as scholars may also perfect their leadership skills in athletics. Janiya, for one, makes her Nashville Prep family proud as a member of the Panther Cheerleading squad: "In cheerleading, I learned that you have to be cooperative and a team player. This is important because you have to be a family, and you have to be in sync in your cheers. If we aren't all together, our cheers look funny. Likewise, if someone in my class is disrespectful to me, I still have to be cooperative by working with them and being respectful. When we get time to work together in class, it makes learning a lot more fun. I do my best to work well with everyone in my classes."
Ms. Abram, Nashville Prep's DCL, is so proud of Janiya for connecting her exemplary leadership on the cheerleading team with her leadership in the classroom: "Janiya has developed strong leadership skills during her time on the cheerleading team. All of the girls on the team look to her to lead with pride and passion. She sets the example for her teammates on the field, and then brings that leadership into the classroom."
Just like the work she puts into her academics, Janiya knows that the work she puts into cheerleading will have a lasting impact beyond college. But maybe even more importantly, Janiya is learning how to be a part of something bigger than herself: "Cheerleading is important to me because I think you should always cheer on your school. Cheerleading is fun. You get to meet new people, you get to be loud, and you can make new friends. It's not about me, it's about my team."
Sports like cheerleading help scholars develop strong teamwork and leadership skills. They must learn to work as one team and one unit and learn the importance of grit and persistence. Despite whatever is happening on the football field, they must remain optimistic and excited. These skills directly transfer to the academic work in their classrooms.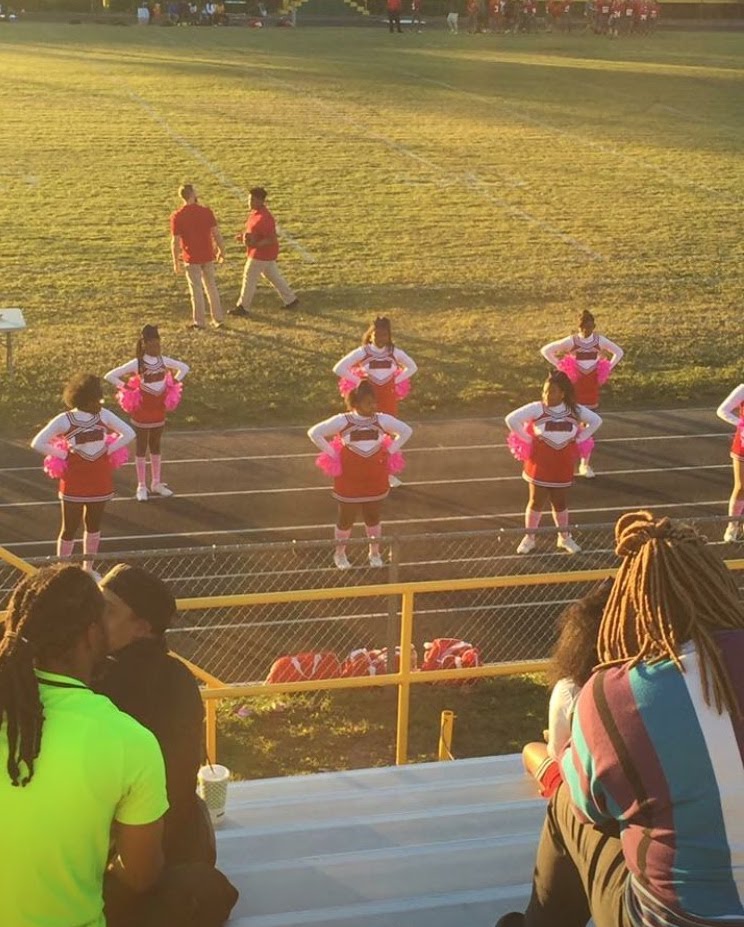 Girls Lacrosse is another opportunity for scholars to develop strong teamwork and leadership skills outside the classroom. Maggie Madden, coach for the Girls Lacrosse team at Liberty Collegiate Academy, was thrilled to share her passion for lacrosse when a few fifth-grade LCA scholars asked her for another athletic opportunity. LCA's lacrosse club is now made up of 5th through 8th grade girls who are learning to value the fellowship with girls outside of their immediate social sphere as they learn the importance of teamwork and relying on others who are different from them. If one teammate decides she doesn't want to give it 100% and "sit this one out," it impacts the entire team. Now, on the LCA girls lacrosse team, all teammates strive to give 100% effort all of the time so they can have a positive influence on their teammates.
When Madden thinks about one teammate who has impacted the team most positively, she thinks of Jerusalem, a 5th grade LCA scholar and member of LCA's lacrosse team: "At week two of practice, Jerusalem was reluctant to play because she realized during week one of practice that lacrosse is very hard. I explained to her that learning the basics of an entirely new sport would take time, I also stressed the importance of making mistakes. Once Jerusalem realized that it was ok to initially not be the strongest player at lacrosse (her second week ever playing the sport) she continued to practice and took advantage of any opportunity to improve her skills. She is now able to run drills and offers supports to her teammates when they are struggling."
Madden believes that through lacrosse, the girls have demonstrated an amazing amount of perseverance. "Lacrosse is a new sport for all of my girls and they have had to work extremely hard to learn the basics. The first few weeks of practice were very challenging for many of the players because they were frustrated with their inexperience. We spent about 20 minutes each practice focusing on passing and throwing. We couldn't continue with scrimmaging and drills if we had not learned the basics. Although playing games or scrimmaging would be more fun, the girls have realized that they need to master the basics before they can move on to fun activities. After each practice we take time to reflect on how much we've grown individually and as a team. In recent weeks, we've spent time reflecting on how hard lacrosse seemed and how much our practice has paid off. The perseverance on the field can be directly transferred to the classroom. The girls have realized that they cannot give up on a book, paragraph or math problem simply because it seems too hard. Lacrosse has taught them that nothing is 'too hard' if we put enough time and targeted practice into it."
Through after-school activities our scholars are learning that perseverance pays off, overcoming fears like public speaking and inexperience will reap rewards, and being a part of a team can be one of the most rewarding yet challenging experiences in their lives. RePublic is proud of our scholars and their focus on excellence both inside and outside the classroom. Our scholars are diverse, and their talents and interests are diverse. From Beta Club to Choir to Soccer to Basketball to Lacrosse to Conflict and Compromise, RePublic scholars are developing of reverence for something much bigger than themselves. We are proud to show off their work. Join us as we watch them grow!
If you would like to learn more about enrolling your scholar in a RePublic School, click here.