November 13, 2017
F.I.R.S.T. : Inside and Outside the Classroom
Moira Moynihan
At RePublic Schools, we believe in and practice daily the F.I.R.S.T. values: family, integrity, respect, strength, and tenacity, all aligned to our mission of reimagining public education in the South. With that, we know that preparing our scholars to be the leaders of tomorrow requires learning both inside and outside of the classroom. Extracurriculars are a critical part of a RePublic education, from football to robotics club and everything in between. Research suggests a strong correlation between extracurricular participation and academic success. Studies have found not only do academics improve, but so too do attendance and aspirations to pursue education beyond high school.
At RHS, we believe so strongly in the power of extracurriculars that we've built time into the daily schedule for clubs to meet. In addition to what is offered during the school day, many sports and clubs meet after school. As a result of this schedule, nearly 100% of RHS scholars participate in at least one club or sport. Scholars can choose from opportunities like music, robotics, choir, volleyball, soccer, basketball, football, and track.
We sat down with two students who exemplify our vision for extracurriculars at RHS: Jau'Von and Alma.
Jau'Von is a founding RePublic scholar and has played just about every sport offered to him. In particular, Jau'Von loves basketball and football and serves as captain of each respective team. Playing varsity sports, especially as a captain, can be a huge time commitment, but Jau'Von is tenacious about the long game: "You have to look at it in the long run. It's teaching you life skills: being a better person, helping people, doing things you wouldn't normally do, getting you out of your comfort zone."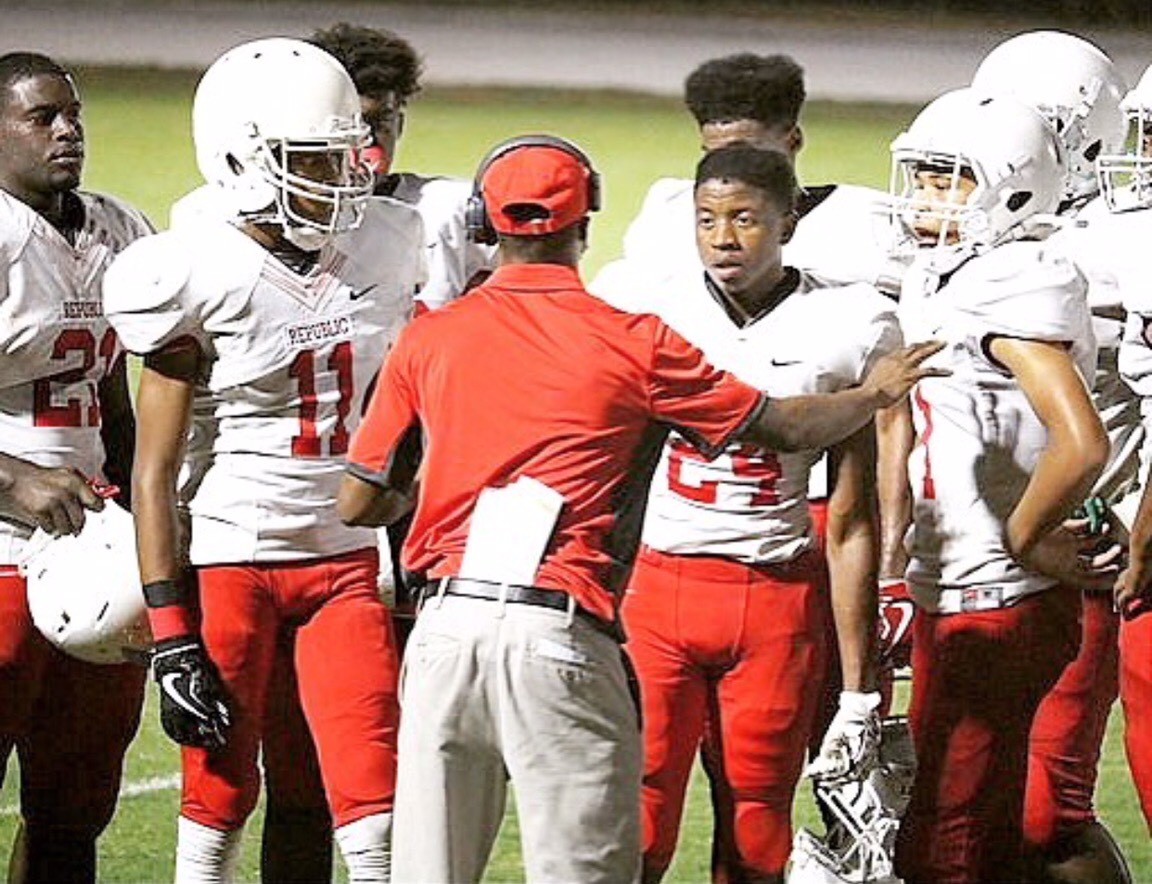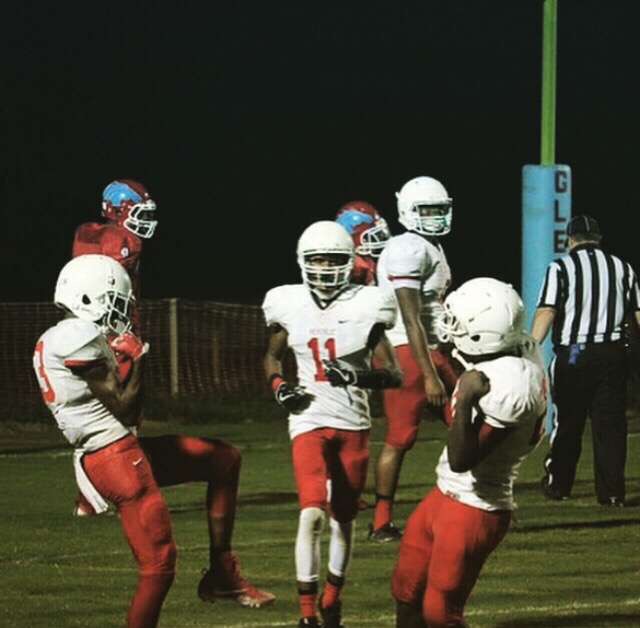 In particular, sports teach Jau'Von how to be patient. "Me, coming up from middle school, I wasn't very patient. I didn't like to wait, and then once I started playing football and basketball, I learned to wait. In the meantime, I work on strengthening my skills to the highest level and then showing them in the game." Jau'Von trusts this patience will pay off. Both he and his family are acutely aware of the doors sports can open for college and beyond. For Jau'Von, he also knows that regardless of whether or not he plays in college, it makes his application stand out from others, showing leadership and commitment skills that colleges are looking for. Jau'Von's dad agrees. He says that it doesn't matter if Jau'Von gets to college through sports or through academics, just that he gets there. Sports are another tool in his kit for college opportunity.
Beyond the doors it opens, Jau'Von just loves to play the game: "I want to put as much time into it as I can. I get this rush. Waiting to go out right before a game is the most exciting time that I can remember."
Bethany Copeland serves as RePublic High School's Director of Athletics. She, more than anyone else, gets to see the tremendous impact sports and extracurriculars have on our scholars. When asked about the impact sports has had on RHS scholars, for her, Jau'Von in particular stood out. "Jau'Von is a leader on all of the teams he participates in, no matter the sport. This year, with football, I saw a lot of maturity within him as he showed respect for his teammates and set an example for others on the team. He just always took the sport very seriously while maintaining really high grades."
Copeland noted how Jau'Von's leadership shone both on and off the field. She credits him with having a tremendous impact on his teammates. "He is one of the most talented players on the team, and when other scholars showed frustration over not winning, Jau'Von maintained a positive outlook. He encouraged his teammates to keep up their tenacity throughout the entire season." Copeland wasn't the only one who noticed how Jau'von excelled on the field. He was recognized at a district level, ending the season ranked 6th for tackles.
Another RePublic scholar who earned district-wide recognition for her talent and hard work was Alma, an all-star volleyball player. Alma has quickly garnered widespread attention for her strength and leadership on the varsity volleyball team. According to Copeland, "At the end of the season Alma was awarded the MVP of not just RePublic's team but MVP of all district teams. She consistently has good grades and shows a ton of integrity in the classroom. All around, she is a wonderful human being."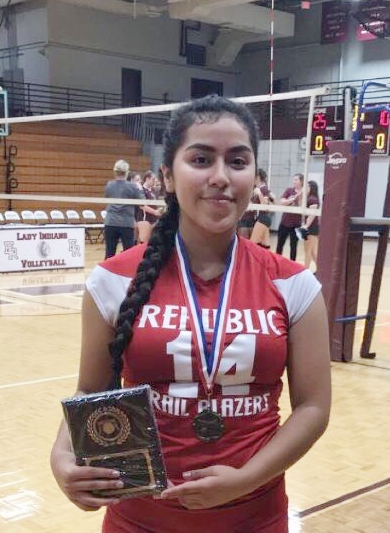 For Alma, playing sports started as just a way to pass time, but it quickly blossomed into a sincere love of the game: "I started playing volleyball to pass time. But I quickly learned that it's not just about passing the ball, but more so about mastering skills and technical practices. So I started committing to it and working really hard. You know when you work hard for something and show tenacity, you don't want to give it up. I want to keep going and improving." Though her family is very supportive, Alma recounts their initial struggle to understand why she would "give up her Saturdays" for the sport. Alma quickly found that the more time she put into volleyball, the more committed she became.
Copeland said Alma's hard work was evident even when volleyball wasn't in season: "Alma has put in a ton of hard work over the last year. She played varsity as a freshman. Throughout the spring, she consistently came to practice to improve and became one of the strongest leaders over the summer."
Like Jau'Von, Alma noted how much she gained from her teammates. She sees volleyball as a path to future opportunities and relishes being around girls who share her mindset: "I have created a bond with my team. We respect each other. We're not going to let someone put our teammate down, and I have also learned that we have to trust each other a lot. They help me see things from another point of view. But like me, they want volleyball to take them places. We want to get a scholarship or continue play somewhere in the future, so talking with my teammates about the future pushes me to where I want to go."
Alma concedes that being a student athlete is hard and requires much more than physical strength and talent. Balancing school and sports presents many challenges, but for Alma, it's worth it. "At the end of the day, I have to keep my grades where I want them to be (or above!) while I continue to practice, but I enjoy the sport so much and improving so much that the hard work pays off."
For Alma and Jau'Von, being involved in high school extracurriculars isn't just another opportunity to excel. The extracurricular commitments they make now at RePublic High School serve them as opportunities to grow, improve upon their strengths and weaknesses, and balance the expectations of multiple responsibilities, just like they will do in college in just a few years. The RePublic family is blessed to witness our amazing scholars show tenacity, respect, strength, and integrity both inside and outside of the classroom, no matter the sport, club, or another extracurricular activity to which they commit.
If you'd like to enroll your scholar in a RePublic School, click here.